Review
From CubieTech Manufacturer, and after some delay due to breakage of stock, we had the opportunity to test the Cubieboard, a small "computer" the size of a mobile phone, with pretensions to compete with the Rasberry Pi, so far the only player in this new market.
1. Cubieboard vs Rasberry Pi
Although sometimes are odious, the best way of deciding on one product over another is to compare both:
Raspberry Pi Model-B

S.O: Linux
Power: 3.5 W (model B) via Micro-USB
CPU: ARM1176JZF-S (armv6k) @ 700 MHz
SoC: Broadcom BCM2835
GPU: VideoCore IV
RAM: 512 MByte (Model B rev 2)
Storage: SD card slot (SD or MicroSDHC card), USB
Video: Composite, HDMI
Audio: 3.5mm jack, HDMI
Network: 10/100 RJ45
Other: 2x USB
Precio: 40€
Cubieboard

S.O: Android preinstalled, Linux via MicroSD
Power: via Mini-USB or DC
CPU: ARM Cortex-A8 @ 1Ghz
SoC: Allwinner A10
GPU: ARM Mali-400
RAM: DRAM 1GB DDR3
Integrated storage: NAND 4GB
Video: HDMI
Audio: 3.5mm jack, HDMI
Network: 10/100 RJ45
Storage: MicroSDHC, SATA, USB
Other: Infrared, 2x USB
Precio: 55€
While hardware level would be the clear winner Cubieboard (processor, RAM, SATA port, flash memory), the time Rasberry Pi is available in the market, with 1 million units sold, gives an advantage refering about solutions and support, which makes the balance between the two.
2. First contact
The availability of 4 GB of internal flash and Android 4.0.4 preinstalled, allows us to enjoy from the first moment of our Cubieboard without any complications. We just need to power the board with 5V/2A adapter, connect a USB keyboard and mouse, and after connecting the HDMI cable and the Internet, we turn our conventional SMART TV a more than acceptable and affordable. First impressions are very satisfactory, running all typical of our smartphone apps full screen on the TV without problems. Only the Youtube app was complicated to play, failure possibly settled by future operating system upgrades.
3. Installing Linux
Installing a Linux distribution will allow us to fully exploit the Cubieboard hardware. We can do it in the internal flash memory or on a micro SD, both systems can coexist. Installation could not be simpler from a Windows computer:
Download the following link http://www.berryterminal.com/doku.php/berryboot_a10 Berryboot bootloader. Extract with Winrar the file "berryboot-cubieboard-beta6.img".
To save this image in our SD, install DiskImage: https://launchpad.net/win32-image-writer/+download
Execute DiskImage as administrator, select the letter of our micro SD, the file "berryboot-cubieboard-beta6.img" file, and click on Write. After a few seconds we have transferred bootloader to the SD .
Switch on the Cubieboard with our SD inserted and default start Berryboot manager.
From the bootloader and with Internet connection you will be able choose one of the 8 different Linux distributions: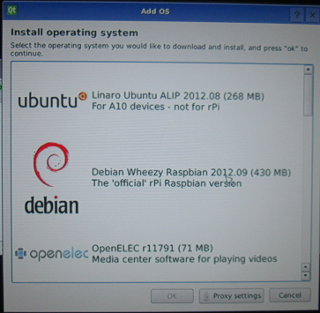 Linaro Ubuntu ALIP 2012.08 (268 MB)

Debian Wheezy Raspbian 2012.09 (430 MB)

OpenELEC r11791 (71 MB)

Puppy Linux Alpha (123 MB)

RaspRazor (624 MB)

Sugar OS (473 MB)

LTSP Thinclient Berry Terminal (22 MB)

BerryWebServer (5MB)
After selecting the version chosen, Berryboot will download and install it our SD card. We can install more than one distribution, choosing at the beginning which one we want to start.
And from here, we can begin to "play" with our Cubieboard and with any project that comes to mind. Ours… control Z-Wave home automation from the TV in the lounge (next chapter).
Traducido del original de Nacho de la Torre: http://domoticaparatodos.com/product-review/cubieboard-la-alternativa-a-la-rasberry-pi/